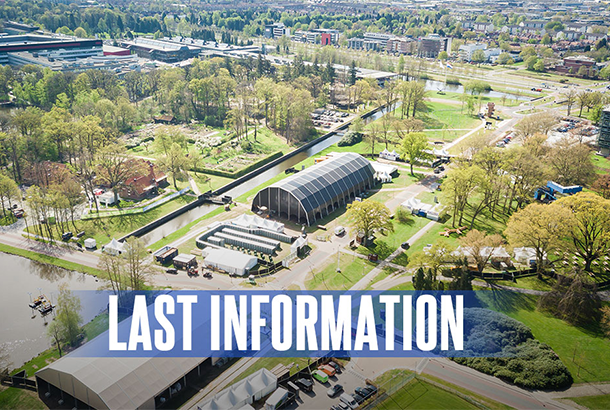 Important: last info for HARDFEST 2022
22 Apr
Just 1 more day until HARDFEST! And with 20°C on the forecast, we're heading for a day with lots of sun. Our festival grounds are looking great: bigger than ever and equipped with plenty of surprises. We can't wait to finally welcome you back. Read everything you need to know about HARDFEST here.
Please note: there are NO corona measures in place for HARDFEST.
That means you don't need to be vaccinated, you don't need a recovery certificate and you don't need to show a test!
THE SUN'S OUT ☀
It will be excellent festival weather with 20°C! So wear sunscreen and drink plenty of fluids. Sunscreen is allowed on the festival grounds if:
It is spreadable (no sprays)
It's still in a new package
TIP: bring a sweater for the evening. Because no matter how hard we are going to stampede together, a warm sweater in the evening is never wrong. There are plenty of lockers where you can store your belongings.
➜ There are no cigarettes available – no smoking inside the tents (outside is allowed)
There will be no cigarettes available on the festival grounds this year either! It is also forbidden to smoke inside the tents. This will be monitored – in case of violation, we are forced to remove you from the site.
➜ Opening hours
At 12:00 the gates of HARDFEST open. The festival lasts until 00:00 hours. Until 22:00 you can still enter the terrain.
➜ Timetable & Floorplan
Check out the HARDFEST 2022 timetable & floorplan here and puzzle your way around the grounds together, because we have quite a few special acts on the lineup.
➜ Tickets
HARDFEST is sold out. There will be no sales at the door. Are you still looking for tickets or do you want to sell your tickets? Please use our special waiting list tool. This is where we bring together ticket sellers and ticket seekers. Buy or sell your tickets exclusively here.
Lost your tickets? Have them sent to you again.
➜ Personalize your tickets
It is still possible to change the name on your ticket during the event.
Via this link you can call up your order(s). (Note: may end up in your spam box)
Then personalize your ticket(s). After this you will receive an e-mail with the ticket(s).
Having problems downloading your tickets? Please report to the entrance and ask for a Paylogic employee.
➜ Change your name
From the confirmation email you go to the page of your order. Here you can change your ticket details quickly and easily.
Choose for "Change of name" (2x)
Select the ticket where you want to make a name change
Fill in the e-mail address of the person who receives the ticket
Follow the further instructions
Please note that for the customization you will be charged €3 per ticket.
➜ Lockers
At the entrance you will find lockers in which you can easily and safely store your belongings. The size of a locker is 30cm wide, 40cm deep and 24cm high. They are for sale on location and cost € 10. You can pay with cash or PIN.
➜ Tokens
On the festival site it is possible to pay with coins using PIN or cash. Or order them online and pick them up quickly at the festival site.
➜ Transport
Train
The Enschede Kennispark (Drienelo) train station is a short 10-minute walk from the University of Twente, the festival site. Therefore there are no shuttle buses.
Car
You can park for free at the parking lot near the FC Twente Stadion/Grolsch Veste. Address: Colosseum 65 in Enschede. This is about a 10 min walk to the festival site.
Bicycle/scooter
Use the bicycle parking. This is free, but not guarded. The parking is located near the entrance and clearly indicated by signage.
➜ More questions?
For more questions, please check out our FAQ and/or TRANSPORT section.
CONTACT
Is your question not listed? Please send us a message via our contact form.
Dit bericht op Instagram bekijken