Timetable & Floorplan HARDFEST 2019
19 apr
Diehards ready? Start het puzzelen maar! Ren jij direct naar de mainstage of knal je de frontrow in bij SUPERBASH? Of sta jij linksvoor bij UNITY? Waar je ook staat… deze koninklijke traditie gaan we samen snoeihard vieren! Drop jouw rondje in de comments! #rondjeslopen
Nog geen tickets? Scoor ze nog snel hier je tickets.
TIMETABLE HARDFEST 2019:
MAINSTAGE
12:00-13:00 Conflate
13:00-14:00 RVAGE
14:00-14:30 Degos & Re-Done Live
14:30-15:30 Sub Zero Project
15:30-16:30 Brennan Heart
16:30-17:30 Frequencerz
17:30-18:20 Hard Driver
18:20-19:45 D-Sturb vs Act Of Rage
19:45-20:45 Radical Redemption & Nolz
20:45-22:00 Adaro
22:00-23:15 Delete vs E-Force
23:15-00:00 Angerfist Live vs Heavy Artillery Live
Hosted by MC Villain
SUPERBASH (nieuw)
12:00-13:00 Dymonic
13:00-14:00 RAPTVRE
14:00-15:00 Jones
15:00-16:00 Josh & Wesz Classics
16:00-17:00 Keltek
17:00-18:00 Villain Classics
18:00-19:00 Noisecontrollers
19:00-20:00 Wildstylez
20:00-20:45 The Pitcher presents SMACK
20:45-21:45 Psyko Punkz
21:45-23:00 Cyrpsis Classics
23:00-00:00 Alpha2 Classics
Hosted by MC Renegade
UNITY – Hardcore State of Mind (nieuw)
13:00-14:00 TJN
14:00-15:00 Odium
15:00-16:00 Tha Playah
16:00-17:00 Nosferatu
17:00-18:00 Sefa
18:00-19:15 Partyraiser
19:15-20:15 Lady Dammage
20:15-21:15 Unexist
21:15-22:30 Angerfist
22:30-23:30 Dr. Peacock
Hosted by MC Syco
LOCATIE
HARDFEST vindt plaats op het terrein van de Universiteit Twente. Festivalvibes all over, want we hebben water, bos en gras! Check de aftermovie maar hoe dat er vorig jaar uitzag!
VERVOER
› Busreizen: met meer dan 225 opstapplaatsen is HARDFEST voor iedereen super eenvoudig te bereiken! Combitickets (bus+entree) = €10,- korting.
› Pendelbus is NIET nodig. Vanaf het NS-Station Enschede Kennispark (Drienelo) loopt je naar het festivalterrein.
› Parkeren is GRATIS op het verharde parkeerterrein van Fc Twente/Grolsch Veste.
Check voor meer info onze vervoerspagina!
TIMETABLE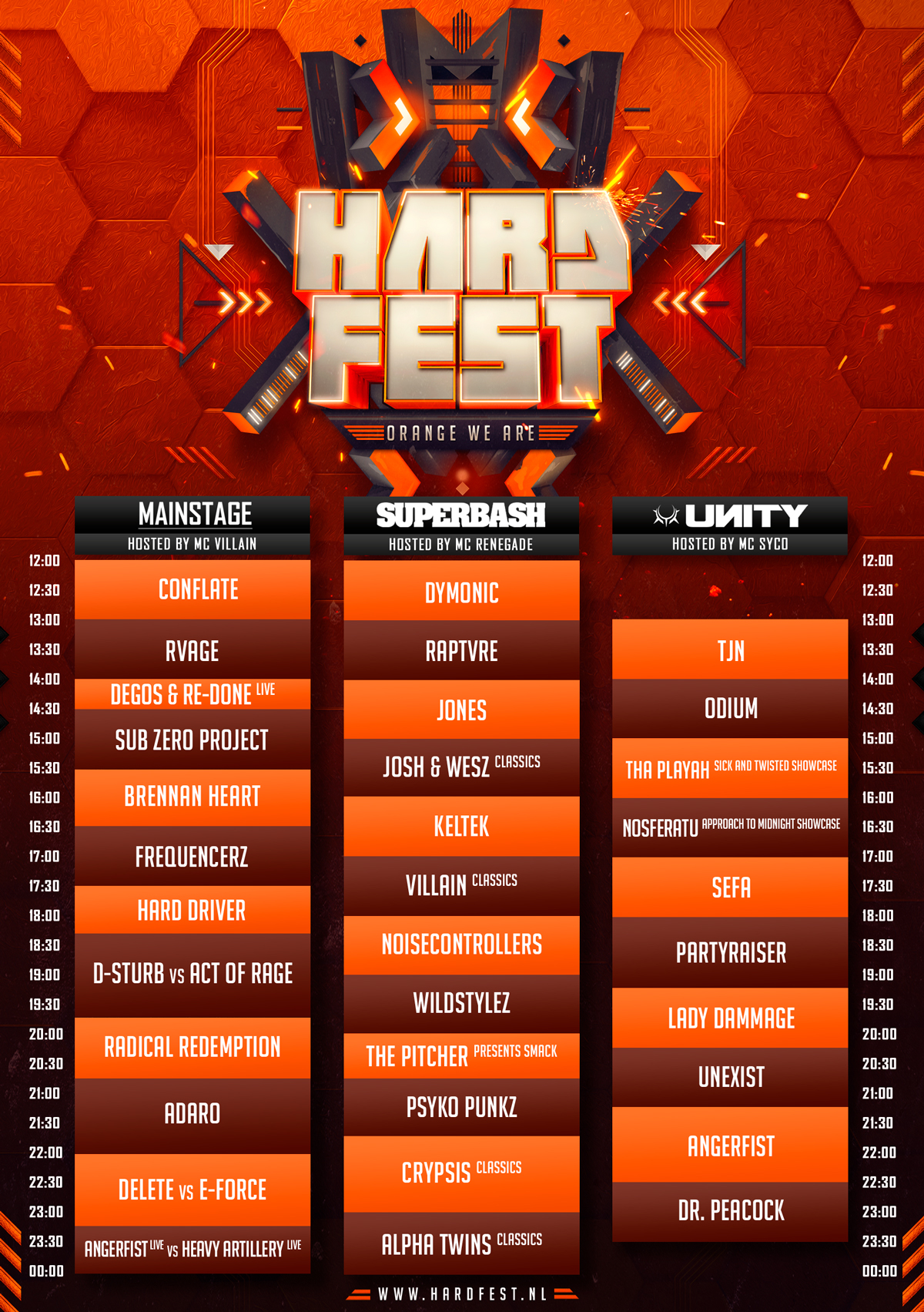 FLOORPLAN